Learn To Peel Potatoes With Grandma
I was perched over my kitchen sink just the other day peeling potatoes. I like the instant gratification of peeling a potato. The peeler slides right over the thick skin and off it goes into the sink to be collected and tossed in the trashcan. Peeling the skin of a potato leaves a smooth surface free of imperfections.
As I was peeling potatoes to make mashed potatoes I got lost in the steady and soft sound that the peeler made when it glided across the skin of the potato. It was a quick whoosh and took me back to my Mimi's kitchen many years ago. She was the greatest of cooks and what I would give to enjoy one more of her home cooked meals.
I laughed while immersed in my own cooking that day because when I first got married I didn't even know how to use a potato peeler or a can opener. After all those years spent at my Mimi's house watching her cook and enjoying her food, I failed to actually try it for myself and get the full hands-on experience.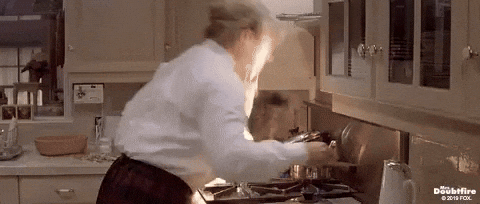 So instead I became Mrs. Doubtfire in the kitchen and charred everything. My husband just mentioned the other day that the hardest part about marriage was the lack of good food in the beginning. The man loves to eat and gratefully, I have come a long way in that department!
My Mimi made most things from scratch and wouldn't have used a frozen or canned biscuit ever. I remember running through her yard one day to her backdoor for dinner. She made fried chicken, mashed potatoes and the yummiest cinnamon apples ever. A meal was never complete at her house without sweet iced tea and a dessert of some sort. It was magical really. The biggest regret I have: Not learning how to cook like she did.
When she passed away three years ago, I wanted one of her famous comfort-food meals. The creamiest macaroni and cheese and her famous potato cakes. So many people have enjoyed her wonderful food and I wish it was something my kids could experience. However, she wasn't just an amazing cook. She was an amazing Christian woman who taught me a lot about God. She always encouraged me and told me to keep God first in my life. Even when others would hurt her, or hurt me, she would urge me to forgive and move on. I don't think she ever wrote anyone off... ever! I always noticed how she was so quick to forgive others.
As I mentioned before, I got married and couldn't boil water. Four and a half years later and I can actually put together a really tasty meal. I can't make biscuits from scratch but I do prepare healthy meals for my family and don't burn water. There have been the occasional mess-ups like the cheddar soup incident in the chicken casserole and a few other "healthy" dishes that tasted like weeds in our yard. It's fine.
I get inspiration from the most random things and I know without-a-doubt that God speaks to my heart in the mundane. Those potatoes I was peeling reminded me, not only of precious memories made, that God is always removing layers in my heart. I have many imperfections and sometimes it takes me a long time to learn something new. I have never lacked in the determination department so I have that going for me but I have so many other imperfections that are blatantly obvious.
Just like potatoes, we have grooves, bumps and bad spots. God is slowly but surely peeling away our tough and imperfect skin. It takes time to shed those layers and unfortunately, it isn't as satisfying as quickly peeling a potato. It can be a bit painful and oftentimes a long process. It is always worth the end result when He makes us into His masterpiece and uses our imperfections to show others His glory.
I want to encourage you today to stop and pay attention to the layers He is trying to peel away in your heart. It certainly won't be comfortable but it will be worth it.
And if you still have the chance, stop and sit with your grandma and learn how to peel potatoes.
Other Posts You May Enjoy:
Discipline Doesn't Work Without Diligence